LATEST NEWS
---
38TH TASK FORCE OF SENIOR OFFICIALS AND 19TH COUNCIL OF MINISTERS MEETINGS-SEPTEMBER 2019 .
The ESAAMLG held its 38th Task Force of Senior Officials and 19th Council of Ministers Meetings in Ezulwini, Kingdom of Eswatini on 1-6 September 2019.
More than 300 delegates from the 18 ESAAMLG Member Countries as well as representatives of Cooperating and Supporting Nations and Organisations, such as DRC, the UK, USA, the Financial Action Task Force (FATF) Secretariat, the African Development Bank, the COMESA, the German Development Agency (GIZ), the IMF, the SADC, the United Nations Office on Drugs and Crime and the United Nations 1267 Sanctions Monitoring Team attended the meetings. The Vice-President of the FATF, Dr Marcus Pleyer also attended the meetings.
Convened twice a year, the ESAAMLG meetings are designed to facilitate discussions among delegates from Member States and observers on a number of issues in relation to AML/CFT matters. The ESAAMLG Plenaries also provide an opportunity for the delegates to address pertinent issues that require a concerted and harmonized approach in the effective implementation of Anti-Money Laundering and Counter Financing of Terrorism (AML/CFT) measures. As an experience sharing platform, the plenary sessions also provide an opportunity to establish partnerships among experts, representatives of Member States, technical partners and observers in AML/CFT.
During the meetings, the 2nd Round Mutual Evaluation Report of the Republic of Malawi and Progress/Follow Up Reports of 12 member countries including the Follow up Reports with Re-ratings of Ethiopia, Mauritius and Zimbabwe were considered.
Part of the plenary meeting also included considering Reports of the Risk, Trends and Methods Group (RTMG), the Technical Assistance and Training Coordination Forum, the Heads of FIUs Meeting and FIU Forum, Working Group on Risk, Compliance and Financial Inclusion, the Budget, Finance and Audit Committee as well as the closed session of the Steering Committee. The typologies studies on "Procurement Corruption in the Public Sector and Associated Money Laundering in the ESAAMLG Region" presented by the RTMG was also approved at the Council's meeting.
Hosted by King Mswati III of Eswatini, ESAAMLG members took this opportunity to also mark the 20 years of existence of the organisation since it was launched in Arusha, Tanzania in August 1999. A special report which highlights the major achievements of the organization was issued to commemorate this event.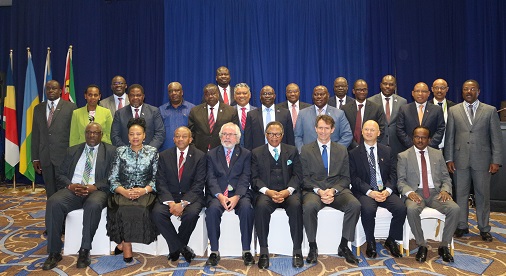 ---